Get tips from family photographers about how to shoot maternity portraits that soon-to-be parents will cherish for years.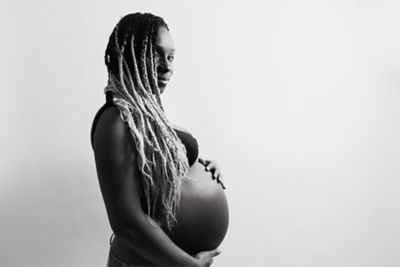 Capture the magic of pregnancy.
It's no surprise that many people want to document the exciting and special time of pregnancy. Whether you're starting out as a professional photographer or you just want to capture some professional-looking shots of that baby bump, here are some tips to get you started on maternity photoshoots.
Time when to take your maternity photos.
The ideal time for a maternity photoshoot is roughly between 28 and 35 weeks. After 28 weeks, the soon-to-be mom should have a beautiful belly — and plenty of time left to get photos printed for a baby shower display. After 35 weeks, however, she may be too uncomfortable to enjoy posing for photos.
Prepare for the photoshoot.
Communicate with your subject.
If you don't know each other well — and even if you do — your client may be nervous about posing for photos. Your first job is to find out what she wants from the maternity session and tell her everything she needs to know to feel comfortable. "It's really important from the get-go to provide the client with all the information. Get on the phone and just have a quick chat beforehand, so that when she comes into the studio you're already a little acquainted," says maternity photographer Natalie Buck.
Consider timing and location.
While many subjects want outdoor sessions, others prefer the controlled environment of a photography studio. If you plan to shoot outdoors, be sure to account for the mobility of the expecting mom, any weather concerns, and optimal time of day. Golden hour photos are beautiful, but they present challenges like rapidly changing light conditions and walking back to the car in the dark. Don't make your subject climb a mountain so you can capture sweeping views of the surrounding area if it means walking a dangerous path at night.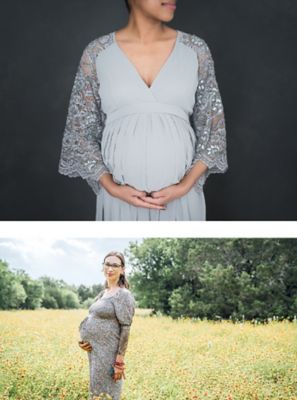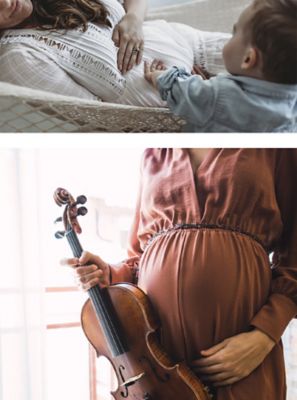 Determine wardrobe and makeup.
Discuss with your client what she plans to wear during the shoot. If you intend to devote yourself to maternity photography, you might consider building your own wardrobe department stocked with maternity gowns for your subjects to wear. "It's easier to just carry maternity dresses in every size for my clients," says says photographer Jacqueline Vega. "The dresses are so expensive and you're only going to use them for a month or two."
In addition to wardrobe, be sure you talk about makeup with your client before the shoot. If they're doing it themselves, they should practice beforehand. Send them some recommendations or tutorials in advance if they don't have much experience.
Partners and older children might join for family portraits to go with the maternity shots. Make sure they all pick out their wardrobe, as well as any props (ultrasound printouts, baby shoes, toys, etc.) ahead of time.
Plan the photos you want to capture.
As with all lifestyle photography, the more prepared you are, the smoother your photoshoot will go. If you're totally new to these types of photos, look through example photos online to pick up maternity photography ideas. Get a sense of the styles, poses, and composition you like. Don't copy others, but take inspiration wherever you happen to find it.
Put together a list of shots you'd like to try, so you have a solid sense of what you want to accomplish during the photo session. This shot list will help you stay on track and avoid wasting time wondering what to do next.
Hi Bumpies! Today we're talking maternity photo shoots. These days many pregnant women choose to get professional maternity pictures taken before their little one arrives. These photo shoots are a great way to remember that special time in your life… you know, the time before you had kids and actually had the time to do your hair and makeup!
When I was pregnant with my son I desperately wanted to get maternity pictures taken. However, money was tight and according to my husband, we just couldn't swing the cost of a session. Shhhh… part of me thinks he just didn't want to partake in the cliché poses I wanted to do.
When I was 34 weeks along I finally took matters in to my own hands. I grabbed my husband, tripod, camera and a few props and we headed to a local forest preserve. It was right about this time last year, so the foliage looked beautiful and the weather was perfect.
Considering we haven't had any formal training or professional photography equipment, I think our photos turned out great! If you're thinking of doing some maternity photos, whether taken by yourself or a professional, I highly recommend them. The photo shoot we did is one of my favorite memories from my pregnancy and I'm so thankful to have the pictures to cherish.
If you're a DIYer like me, here are a few tips to help get the most out of your maternity pictures (or any other type of photo shoot you do).
Try to take your photos between 30 and 36 weeks. You want to show off that bump! But if you wait too long, you risk going in to labor early or being too uncomfortable to enjoy the experience.
Take your pictures outside! Places like forest preserves, parks and gardens make beautiful backgrounds. Autumn is probably the most beautiful time of year to take photos outside, so if you're due in the next few months, you've hit the maternity photo shoot jackpot! If a nature-themed shoot isn't your style, places like libraries, historic buildings and museums also make beautiful backdrops.
If you do shoot outside, plan to take your photos during the "golden hour," which is the couple hours before sunset. Shooting on an overcast day is ideal, but not always an option. If you end up shooting on a sunny day, position the sun behind you or to your side. Try using your camera's flash to help even out the light.
Don't forget the props. Props can add a lot of visual interest to your photos and will help tell a more complete story. Some prop ideas include: baby shoes, a Baby on Board sign, books, ribbons, balloons, ultrasounds and wooden letters.
You don't need a fancy camera to get great results. I didn't have a professional-grade camera when we took our photos. We used my Canon PowerShot G10 and tried shooting in a bunch of different scene modes to capture the best photo (I honestly don't remember which setting we used to shoot the photo above with — sorry!). If you're doing the photos alone or want to include your partner in a few, learn how to use the self-timer on your camera before you start shooting; it will save you time and frustration. I definitely recommend a tripod for those kind of shots, it'll help you get the crispest image you can. You can also prop the camera on the hood of your car or a desk to get the perfect shot. But don't be afraid to get creative with different camera positions and angles, too.
Edit your photos after the shoot. Most professional photos are edited to give them a more polished look. I used actions in PhotoShop Elements to give my photos a vintage feel. If you don't have a similar program on your computer, check out PicMonkey, Pixlr and Picasa, which are free online editing tools.
So what are you waiting for? Grab your camera and get clicking!
Would you ever do a DIY maternity photo shoot, or would you leave it to a professional photographer?
Pregnancy and preparation for newborn are amazing things. Many moms want to record these moments. On the other hand, maternity will produce some stress as well. A good maternity photo is helpful to ease such stress and lead to a confident mom. Considering maternity photos are an important record of the beginning of a mother's life, every mother wants to know when to take maternity photographs. Therefore, this article will provide some suggestions about when to take maternity photos and how to take perfect maternity pictures. Although the situations are different for different mothers, we find some common grounds.
When to take maternity pictures
You'd better to plan your maternity photographs at the beginning of the last trimester, about seventh or eighth month of pregnancy. At that time, your belly will display a fine round shape. So you can take maternity photos from different angles and perspectives. Some mothers prefer to count pregnancy by weeks. They should shoot maternity photo sessions at around 30 weeks pregnant.
If you shoot maternity photo sessions much earlier, your belly will be too small and not obvious. After eighth month pregnant, your body might become uncomfortable. You belly will become too heavy to take maternity photographs. I guess that you do not want to show unhappiness in your maternity pictures. But when your body is uncomfortable, you cannot display happiness naturally.
There are some mothers that schedule to take multiple maternity photos. Then the best time to begin is 24 weeks pregnant. At this moment, your belly becomes bigger during the second trimester. But you are still agile and able to walk in garden. And you already know that your baby is a girl or a boy. On the other hand, if you prepare to use your maternity photos to create baby shower invitations, sixth month of pregnancy is a perfect time.
How to take good maternity photographs
Besides time, there are also some tips related to good maternity pictures. Here are some aspects you should take into consideration when you take good maternity photos.
Angles and perspectives
If you have viewed the beautiful maternity photos on Pinterest, you will discover that most maternity photos are taken from the side or 45 degree angles. That is because this is the best angle to display your beautiful belly. If you want to take some special maternity photos, you can choose other angles, like straight on or downward. And we suggest that you should put your hands on your belly when taking maternity photos.
Natural light
Light is everything to photography. So is maternity photo. A maternity photo usually spread happiness feelings. We can use natural source of light, the sun, to take perfect maternity photos. The basic rule is to shoot maternity photos when the sunlight is soft, like before the sunset. You can utilize the natural light to create silhouette effect. If you want to take photos at home comfortably, you can stand or sit next to the window.
Background
Utilize a beautiful background could makes your maternity photos impressive. So before shooting maternity photos, you can walk around to search some beautiful scene. Or you can shoot an upward photo that takes the sky as the background. Even you decide to take maternity photos at home; you can use furniture as background. We believe that no place is as happiness as home.
Camera
It is hard to say whether you should take maternity photographs with professional cameras or your smartphone. They all have unique benefits. Professional cameras are good at shooting high quality photos; however, they are not portable. Many high-end smartphones have equipped advanced lens. Moreover, we can take maternity photographs with smartphone at any time. You can choose an appropriate hardware according to your situations.
A powerful photo editor
Even though your maternity pictures are not perfect, you can use a powerful photo enhancer to polish them, like WidsMob Denoise. This smart maternity photo enhancer could detect maternity photographs and minimize noise automatically. Moreover, Photo Denoise will not damage the details in your maternity files. And Photo Denoise could handle your maternity photos in batch. After several steps, you can get perfect photos.
Conclusion
This article has offered some suggestions about maternity photos, like when to take photos and how to take good photographs. The beginning of the last trimester is a good time to take maternity photos. And if you prepare to take a series of maternity photos, you can start at the second trimester.
In the second part, we recommended some tips when taking maternity photos. Although maternity pictures are similar with portrait photos, there are some differences in the use of light, angle and perspective. If you want to take a beautiful maternity photo, you can follow the suggestions above. Finally, you can polish your maternity photographs at home. WidsMob Denoise is a smart photo enhancer. It is able to deal with all the photos in batch automatically. Then you can get your perfect maternity photos.
You want your belly to be big and beautiful, but you don't want it to be so large that posing and holding different positions for any length of time becomes taxing. Professional photographer Mariah Milan Dagupion suggests taking photos right around 30 weeks. That's when your belly gets really round, she says, but it's not too heavy yet. Of course each pregnancy and pregnant belly is different so use your own stamina as a guide.
1 of 6
2 of 6
Avoid background clutter.
Just like professional photographers, style your backdrop. So think about what's behind you. When choosing your location, avoid standing in front of a messy living room — or worse, a messy bathroom. Instead, lie mermaid-style on a solid-color couch or tape some ironed white sheets to the wall and — voila — an instant studio backdrop. Or change things up and step outside: Pick a tranquil spot in your backyard or nearby park or beach to set up camp. We love the leaning-up-against-a-tree look, or, if you're at the beach, try a profile shot, where you're sitting up and looking out at the sea.
2 of 6
3 of 6
Turn off the flash.
The on-camera flash will be a total wash-out. Maternity photographer Ashley McNamara suggests standing right in front of an open door or window to get great natural light instead. If you're shooting outside avoid midday sun. "The best times to go outside are early in the morning or an hour or two before sunset when there's that golden, sun-tanned, highlights-in-the-hair light," Dagupion says.
3 of 6
4 of 6
Wear something tight and stretchy.
The whole point of the shoot is to see the gorgeous belly, right? Tight, stretchy clothes will best accentuate all your great curves.
"Never wear maternity clothes," Hart says, since their primary objective is often to feel good on, rather than flatter your shape. McNamara recommends trying some fitted Gap or Old Navy tank tops in solid colors instead.
"Skip the florals, plaids, and checks," maternity photog Koren Reyes stresses. "You want to be able to look back at these pictures in 10 or 20 years and still think the photos look great. Whereas really stylized clothes can get dated, solid darks and neutrals are timeless."
Alternatively, skip clothes entirely. "I have a set of sheer curtains from Target, and I use one panel to wrap the breasts and another panel to wrap the belly," McNamara says.
You know that scene in Titanic when 100-year-old Rose says, "it's been 84 years. "? That's how it feels to be on the third trimester of your pregnancy. There are ups and downs. and I'm not even talking about the nausea that makes you feel like you live in a houseboat. That being said, pregnancy is still such a special and wild time in your life. Document it! If you're stumped about when to take your maternity photos for on-point, pregnancy glow-up pics, then read on for our pro tips! Whether you're expecting twins or utterly stumped on what to wear for your maternity photo shoot, we have ideas for you…
When To Take Maternity Photos
Generally, the best time to capture your bump around 28-36 weeks. This also happens to be the time frame in which you feel comfortable enough to move around and pose for cute belly pictures before you're a little too close to your delivery date. But there are no hard and fast rules here! If you're really digging your belly size in your 7th or 8th month, snap your pictures then.
When To Take Maternity Photos If You're Having Twins or Multiples
If you're expecting twins, generally right around 24 weeks is when you will have a nice, round belly and you won't be waddling around praying you don't pee your pants in front of the photographer. But again, totally up to you!
What To Wear For Your Maternity Photo Shoot
When it comes to choosing your outfits, mamas love a fitted maxi dress . It allows you to move around comfortably, reduces belly restriction, and shows off your mega cute bump. Generally you will want to avoid large or distracting patterns. Stick with solids or small patterns so that your bump can really shine.
Pro tip: If you plan on really showing off your belly, make sure to have some body lotion on hand to make sure any IRL belly pics look shiny and hydrated.
The Best Pregnancy Photo Shoot Poses
Trying to keep these photo shoots from feeling awkward is half the battle (the other half is fighting off the nausea long enough to take some pictures)! Keeping it simple is the key.
Never be afraid to touch or wrap your arms around your belly. Let it be the main attraction! Don't shy away from letting your partner or kids wrap their arms around your bump, as well. Resting your head on your partner's shoulder or chest is a simple way to make your photos look more intimate and allows for sweet moments to shine through. Whatever you decide to do, make sure you feel comfortable — this is your shoot! Click here for more pregnancy photo shoot ideas.
If you want to take your own maternity photos, but you don't know where to start, I have you covered!
When I was pregnant with my first baby 4 years ago, I didn't have any money to spare. It was my second year in Toronto. My husband was a full-time student, and we were struggling with the high cost of living in Toronto. While it all worked out once my hubby went back to work full time, it was a tight time for our bank account.
I didn't want to miss out on an opportunity to have beautiful maternity photos. But with a tight budget, it was hard to find a photographer to do the job.
My hubby suggested at the time that we should take our own photos at home. He thought we could have a D.I.Y maternity photo session and this is what we did. The results were fabulous and I would do it all over again.
Benefits to take your own maternity photos
You can choose as many photos as you want. You are not limited to the number of the images in the package that you chose.
You are not limited to the time frame of the session that you paid for.
You are not limited to one location. You can have indoor and outdoor photos.
You will save money!
My photos in this post
All the images you will see here are photos taken by my hubby or by my friend who came to help us that day. After we had taken all the photos, I sent the 10 pictures that I liked the most to a Photoshop freelancer. I paid around $50.00 CAD to edit all 10 photos and I was thrilled with the results.
Keep in mind that the after-work editing is what makes the photos look so special. One of the reasons why photographers limit the number of photos they provide in a package is the editing that they will need to do with the picture after the session.
How to prepare to take your own maternity photos?
Camera: You need a good camera for this session. In order for the pictures to be worth it, you want a camera that can provide high-resolution images. Ask your friends and family if you can borrow their camera for one day. You will be surprised by how many people have a good camera at home.
Browse online for maternity photos. If you're unsure what to look for, Google images page is where you should start. Choose the photos and the style that you would like to create.
Prepare all the props you will need for the photos and all the outfits you would like to wear beforehand.
The best time to take the photos will be around noon when you can maximize the neutral light in your house.
For "Studio Like" images, choose a bright, clean wall in your house. Clear all the furniture out of your way. Bring as many floor lamp as you can and direct them to the wall. Sit or stand in front of all the lights. If you have some shadows from all the lights in your images, you can ask the editor to remove it later.
It is better to take the photos outside with natural light.
Make your hair and make-up. It is time to get pampered. If you want to use a professional for this, that's up to you.
Choose the best photos and send them to a Photoshop freelancer. You can find one at www.freelancer.com , www.fiverr.com or www.airtasker.com. A good Photoshop freelancer can do miracles for your picture.
Here are some of my maternity photos that I took alone. I'm showing you the before/after photos. You can see by yourself the difference that the Photoshop editing makes.
If you have any comments or questions, feel free to add it in the section below.
When you think of maternity photos, you probably think of something in the studio or the mom-to-be's home that's maybe a little formal, maybe a bit fun, and posed in a way that shows the beauty of the pregnancy and the sweetness of mom's connection to her baby-to-be.
Those kinds of photos are certainly valuable and beautiful. But so too are maternity photos taken in the great outdoors! This is especially true if the expecting mother has an adventurous spirit (and if you live in an area that's got some spectacular landscapes, like the photo above).
With that in mind, let's take a look at a few reasons why on-location photo shoots outdoors are a great option for maternity photos.
Golden Hour = Great Lighting
Em J Photography
One of the greatest advantages of shooting outdoors is that you can utilize Golden Hour lighting to give your portraits an added layer of interest. Not only is Golden Hour lighting soft and warm, which will make the mom-to-be look especially good, but it also creates a lot of dimension in photos because of the shadows it creates. Early in the morning and late in the evening, the sun is so low on the horizon that you have gorgeous sidelighting to work with that creates long shadows across the scene, resulting in portraits with a ton of depth.
Of course, when shooting during Golden Hour, you'll need to be cognizant of how mom feels. She might not want to get up at the crack of dawn, nor stay out until sunset for her maternity photos. However, it's still a good idea to float to your client!
Gorgeous Backdrops
Katelyn K Photography
There's a lot to be said for indoor portraits. They are typically more comfortable for the mom-to-be, not to mention more private (some people just don't like to be photographed in public!). However, one thing that you cannot replicate indoors is the incredible array of backgrounds you can use as a canvas on which to create a portrait of your client.
There are endless possibilities here, too. If you live in an urban area, you can use buildings, bridges, and other structures as a backdrop for an elegant photo. Note how in the image above, mom's wardrobe, with its muted colors and soft lines creates a nice juxtaposition with the dark tones and harsh lines of the architecture in the shot.
You can also head out into the country to capitalize on natural scenes like rivers, mountains, beaches, and fields, as seen in the image above. Note how in this image, we see a nice contrast between the wardrobe of the mom-to-be and her surroundings: the vibrant white of her gown pops when set upon the muted tones of the foreground, and even contrasts well with the vibrant colors of the setting sun behind her.
Textures, Patterns, and Colors Add Dimension
Michael Kormos Photography
In addition to Golden Hour lighting and compelling backdrops, outdoor maternity shoots allow you to take advantage of textures, patterns, and colors that are virtually impossible to find indoors. Though you don't want to put your client in the midst of colors or textures that will overwhelm the photo, adding these elements can prove to be the touch of visual interest that takes your photo to an entirely other level.
Take the photo above as a prime example of this concept. The texture of the salt flats gives dimension to the foreground, and by placing the subject inside one of the interesting shapes created on the ground, she's effectively framed, bringing greater attention to her and her flowing gown. What's more, the pattern created by the salt gives additional interest to the shot and helps connect the foreground to the background, all without taking away from the prominence of the mom-to-be.
Pair Beautiful Outdoor Scenes With Beautiful Wardrobe Choices
As is evident in the sample images throughout this article, making smart wardrobe selections can take the excitement and beauty of an outdoor shoot and make it something that's even more eye-catching and compelling.
Just like you want to provide your clients with custom, high-end images that show craftsmanship and pride in your work, Sew Trendy Accessories wants to give expecting moms gorgeous wardrobe options that build off the natural beauty of pregnancy. Sew Trendy Accessories offers handmade items, from flowing gowns like the one pictured above to gender reveal gowns to gowns that show a little more skin. Customers can choose from a variety of construction options as well, including different tops, sleeves, and trains.
In short, Sew Trendy Accessories can help you make your maternity clients look and feel like the beautiful women they are. If you want to maximize the visual impact of your maternity portraits, head over to their website to see what they have to offer!
Congratulations! Now that you know you are pregnant, your to-do list for before you give birth must be as long as your arm. Documenting your pregnancy progress might be on your daily to-do list. You might be taking daily bump progression photos. However, you may also want a more elaborate photoshoot to help you remember this unique and special time in your life. Have you considered saving money by taking your own DIY maternity photos? If so, then read on. Your photos can look just as professional as if you had them taken on location by an expert photographer.
Table of Contents
What week is best for maternity photos?
Around 30 weeks is an ideal time to take maternity photos. Your bump is big by then so that it is evident in photos but it is not so big that you are uncomfortable and unable to enjoy yourself or get into good positions during the photoshoot.
Certainly, you may have several other factors to consider when picking your photoshoot day. For example, you may want the photos for a specific purpose like your baby shower. Or you might just be plain busy at 30 weeks and need to do it sometime before or after.
Pin for later!
How do you prepare for a DIY maternity photoshoot?
Depending on your family situation, it may not be as easy as picking a day. You may need to one or more of the following:
If you have other children at home, you may need to make sure there is someone to watch them
Get a good night's sleep the night before
Prepare your clothing
Practice doing your own makeup
Manage your expectations
Practice your hairstyle
7 Tips for the perfect at-home pregnancy bump photos
1. Pick a theme
This will save you a whole lot of deliberation time. That is because it will give you instant ideas as to what exactly to wear, what to do with your hair, what props you might need and what kind of poses you want to do, for example. You could go for a nautical theme, a beachy theme, Disney theme or a colour-specific theme. Picking a theme will make your decision at Tip #5 below very easy!
2. Choose a clean background
Make sure there are as few things in the background as possible. You can also use a large white, gray or cream sheet as your backdrop.
3. Don't use your camera flash
The flash creates a harsh and often unflattering light. It can create dark shadows under your eyes and give your face a washed out look unless you know how to use it expertly. You want your face to look as natural bright in your DIY photos as possible.
4. Use your phone camera or camera self timer/tripod with remote control
Awesome if you have some help. If you do not, setting things up and running back and forth to your camera could become a cardio workout you didn't bargain for. Make things easier for yourself by using the timer on your phone camera or camera (whichever one you are using). 10 seconds on your timer should work just fine and give you enough time to get into position. Even better, you could get a tripod that comes with a remote control. Attaching your camera to the tripod allows you to use the remote control to trigger the camera when you are ready with each pose.
Pin for later!
5. Dress (or undress) however you want
Get glam. If you wish. Really, do exactly as you would if you were shooting on location with a professional photographer. Your maternity photo dresses or outfits should be as simple or over-the-top as you would like them to be. Go with one outfit or have six outfit changes! You might want to get very dolled up if you are thinking of it as a one-off event that you might not do again. You may also prefer to keep it simple. Whichever you choose, make sure you feel comfortable.
Note: do not wear clothing with elastic in the hours leading up to taking your DIY maternity photos. They might leave marks on your skin that will show up in your photos.
6. Practice
Figure out your best poses. What positions flatter you the most? Get in front of a full length mirror and practice either just by looking at your reflection or by taking test photos. The traditional pose and one that works well for just about anyone is to stand sideways with a hand on top of your belly and your other hand cradling your belly. Of course, any other will work just as well. Take some belly only photos. Do not be afraid of close up shots of your face and body as well. For close ups, angling the camera so that it's taking the shot from above tends to work out quite nicely.
As you practice, it may be helpful for you to write a line-up of poses that you think work for you.
Remember that you might want to get your partner and any other family members in the photos too!
7. Go for natural light
This is key for your DIY maternity photos. Stand in the light from a window during the day. Not too close to the light though or else the light will look too harsh or bright in the photos. Natural light provides that effortless look you need for your photos. It is harder to achieve that look with artificial lighting. For this reason, you may want to aim for the morning hours for your photoshoot. Of course, lighting is something you might be able to fix fairly easily in an app if you absolutely need to. You just need a good photo editing software or app.
Pin for later!
Easy edits for your photos
Once you have all the points above covered and have produced photos you can be proud of, don't be afraid to edit them. These are my top three favourite editing apps:
Canva
Adobe Photoshop Express Editor
Airbrush
So what do you think? Are you ready to DIY your maternity photos?